Matthew teaches individual lessons and group piano classes as Lecturer of Applied Piano/Class Piano/Collaborative Piano at Washington College in Chestertown, MD. Here are some anonymous course evaluations from his group classes:
I highly recommend Professor Brower to anyone taking piano. He is very patient and is able to explain everything really well. Piano will be one of my top favorite courses I took at Washington College and Professor Brower is a large part of that. This class was everything I hoped for and more and I now have the basic skill set needed to play for the rest of my life.
Anonymous Student, Class Piano I
Thoroughly enjoyed the class and professor. I learned a lot and I plan on continuing in this field in the future. Also, the course was taught at a great pace.
Anonymous Student, Class Piano II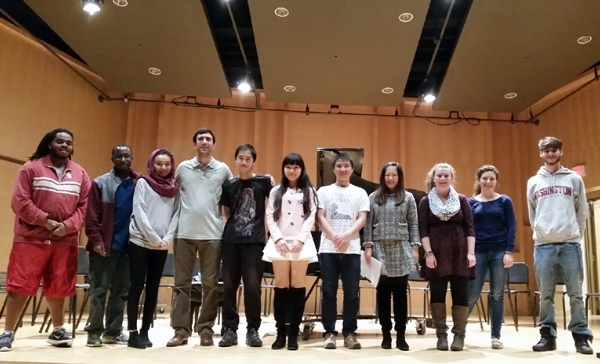 2015-2016 Washington College Piano Studio
Matthew is also a faculty member of the Master Players Festival at the University of Delaware, where he teaches piano lessons and group seminars, coaches chamber music groups, and adjudicates the piano concerto competition.
University of Delaware, August 2, 2016; Chopin Polonaise in E-flat minor, Op. 26, No. 2
Video by James Sui